Pediatric Services
General Medical Care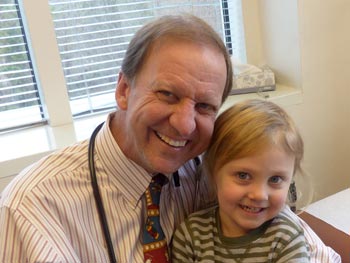 Same day sick appointments
Saturday morning sick visit appointments
ADHD evaluation and treatment
Pre-foreign travel visits
School, camp and sports physicals
Wart removal
Injury and wound care
Well Child Visits
It is important for children to visit the pediatrician at regular intervals. During these visits we will evaluate your child's growth and development; administer vaccines; discuss behavior, safety and nutrition; administer hearing and vision tests; run routine lab tests; and answer any questions you may have.
Check-up & Immunization Schedule
Sick Child Visits
We make every effort to schedule appointments for ill children on the day that you call us. Please call our office early in the day so we can minimize the time that you will spend waiting.
If you would like us to see more than one child, please schedule both of them when you make your appointment. Without an appointment, we may not be able to see a sick sibling.
Newborn Services
Thank you for entrusting us with the care of your baby.
Drs. Thomas, Moore, and Norris see newborn babies at Northside and Piedmont hospitals. All you have to do is provide your obstetrician or the hospital with our name and the hospital will call us when your baby is born.
Caring for your baby booklet
Now you can download our booklet with sections for newborn care, feeding, bathing & skin care, sleeping, illness, vaccines and safety.
Teen Health
Adolescents have special health concerns including nutrition, fitness & exercise, and drugs & alcohol.
ADHD Evaluations
We diagnose and treat children with ADD (attention deficit disorder) and ADHD (attention deficit hyperactivity disorder). Patients that need an evaluation for ADD/ADHD need to have had a well check within the last 11 months. Prior to the initial evaluation, the parents and teachers will need to fill out an evaluation form.
During the initial evaluation an extensive history will be taken. This is the most important tool for diagnosing ADD or ADHD. We will discuss the cause, treatment, and potential side effects of treatment. The decision of whether to treat your child and how will be made by the physician and parents.
The initial evaluation is lengthy, as we take great care to make a correct diagnosis, and answer all questions you may have.Please allow 1 hour or longer for this visit.
New Parent Consults
We offer new parent consults for expecting parents. This is a free service that we provide. We invite you to come visit our office, meet the staff, sit down with one or more of our providers to answer any questions you might have regarding what to expect after your baby is born.
If you are interested in meeting us, please call the office at 404-705-3100 to schedule an appointment.